Featured
Welcome to THERE downunder~ maverickfred style!
I logged into THERE really late last night, the only time I can get in it seems. I tried a few times earlier and got the world is full message. drat' I looked at the remarkable amount of running events but nothing caught my eye. Suddenly excited, I'll finally arrange my inventory! I stood on a deserted ~ so I thought ~ mountain in the middle of no- there, starting the long tedious task of going through my things. I didn't get very far when suddenly I saw what seemed to be right out of the new Transformers movie I recently saw a giant robot coming right for me. I was actually shocked. lol' So suddenly I was face to face with maverickfred and this colorful Aussie took me out of my inventory doldrums right into a THERE adventure. Wow what a time! phew'
Surprised by maverickfred!
Last night I saw some of the building you can do and why even when you think there is nothing to do in THERE your wrong. THERE is full of wonder and surprise. On the way to Fred's layout we passed by the White House by next3d and even though I accidentally fell out of the robot it was nice to see it's amazing detail again. Fred's place was a down-under spectacle. Kangaroos welcomed us with waterfalls and Santa Claus. Fred remarked it was a little early for the Christmas stuff but as he explained and showed me what he built I could see how much fun he really has in THERE. At the end we met who he called "the ladies" who were all playing cards. They weren't too surprised to see me. They thought my Cheetah outfit was sooo cute and that Fred knew everyone- just like Michael Wilson. What a night, truly satisfied.. I logged off to drift away to Kangaroo dreams of THERE down-under and all the places I have yet to explore.
I was thrilled to see the amazing detail of the White House again.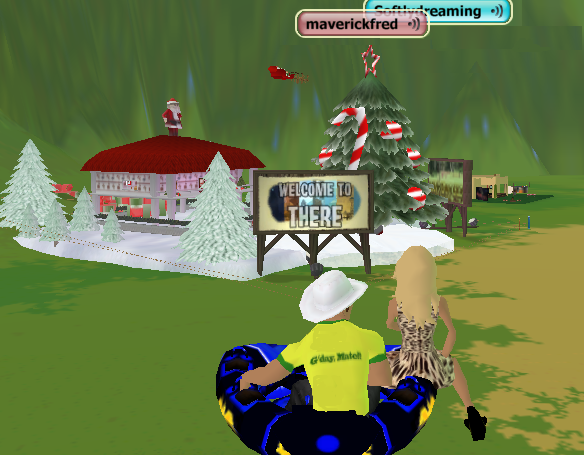 Welcome to THERE~ Aussie style.
Fred had a lot in his pocket.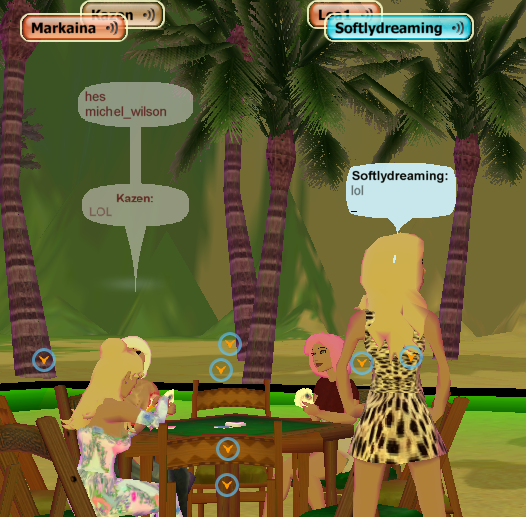 The ladies who agree that Fred is cool like Mike Wilson.