PARTY with RACESMART (Korben Soede Aradriel Thumdar...etc.)
Hmm' it seems I spent my entire THERE existence as the other-half of a virtual couple. When I was fresh in THERE only a few weeks I met Percy and had my own personal guide to there.com,we ended up being in a friendship/relationship that lasted almost my whole experience in THERE. Living 1000's of miles apart (Boston to London) THERE was our world. After THERE ended we ended. Now THERE is back and Percy is happy with his new fiance' (congratz btw) and I'm standing in THERE wondering what to do with myself. Well now I know what the "Happening Now" schedule is for! Turns out RaceSmart is having a party, I love driving so that sounds great. It's at BambooCrater Xtreme 4x4 Park...oooh Tuv's. Looking at the party go-ers profiles I saw many in a club called guinea pigs. Right now we all are Beta Testers because the world isn't fully open. But people like RaceSmart beta tested as soon as THERE2 started getting ready. She was amazed and grateful to be chosen, and her and Zip (living in the same house) saw it all first hand and got to share exciting bits with us.RaceSmart talked more about Beta-testing before the Gold Fun Passes got in. She was surprised at the ones that were exclusively chosen to participate, but felt the choices represented a wide variety of Theriens and were well made. They ranged from people like virtual site owner Thumdar, moviemaker/gameshow host Francis_7, to her friend who said: I can't believe they picked me all I do is paintball. At the party people also discussed compasses (you have to download b-boy...Bedican that's the one). I told them I didn't have one. Go to Thumdar.com you'll find everything you need I was told. More people showed up including Korben who took me for wild ride on the track, including getting stuck in the JND platform which he said always happens. lol' Just when I thought the party was over Korben took me to paint the THERE town red (or purple you might say). We played Crack when I said I never did before and met up with a lot of Theriens, and the night was so much fun, one of the best I spent in THERE, so good thing I found out what was "Happening Now"!
Party with RaceSmart telling us that after a while people didn't know if it was her or Zip talking. Doh'
A wild ride on a great track.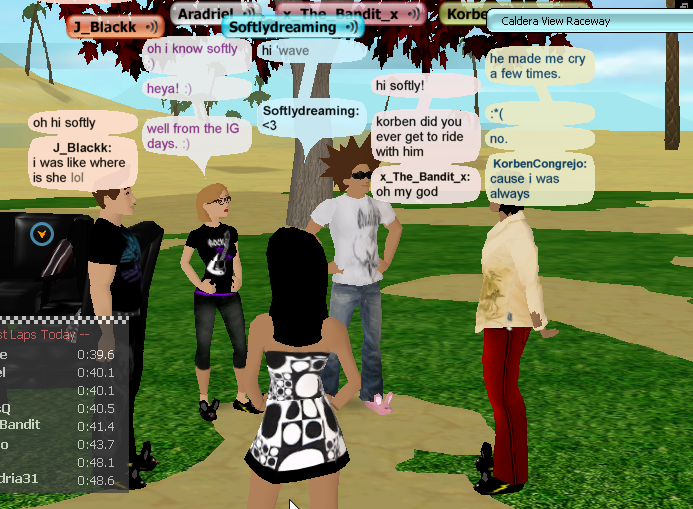 The Party after the PARTY. Which eventually moved to the temporary Avie sacrifices.
We played cracked and other stuffff....
The sweet and kind and funny Soede supports me in my Avie jump xD.
After numerous attempts to get in a chat group at the top, we hug at the bottom. It's my first time hugging in THERE2!
Just as we all thought the party was winding down ... Thumdar dances on the table, showing us the fun in THERE truly never ends. 'lol