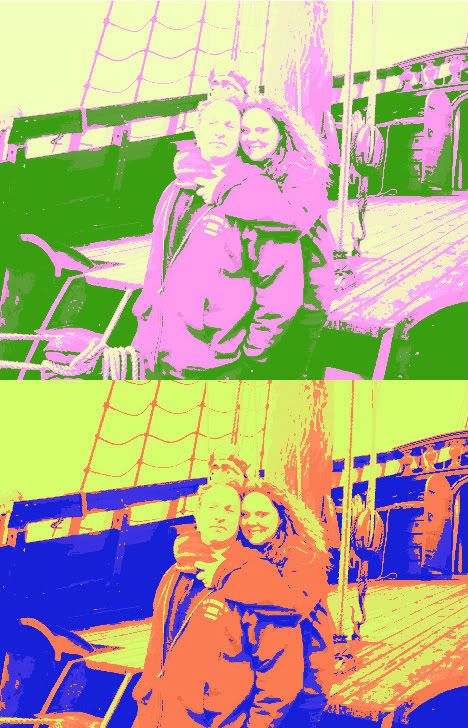 what we did...felt like and looked like in the real physical world....Percy meets softlydreaming.......
The pop art on the front page is me and Percy on the Batavia a historical sailing ship in the Netherlands in matching over sized sweatshirts from the USA...although in Percy's homeland we looked like American tourists. Previously in London, wearing the same sweatshirts Percy asked a Bobbie (police officer) for directions. The officer said that Percy ( a former marine in excellent shape) would have no problem carrying the missus (meaning me) to the street we were looking for. We gushed over the fact that he thought we were married, and earlier in Gravesend an English woman asked about our relationship just sensing we must be a couple in love....
Actually everything didn't start out so rosy. This is us just before we left looking at each other the only way we could on web cam.
As usual I am nervous about us meeting and wondering if our love will be "real" and Percy is reassuring me patiently. But on the way to London I get scared and want to back out and when I meet Percy.....he looks different...I'm unsure....actually I'm in shock. I don't like his mannerisms...I've never seen them before. Everything seems staged and affected somehow. So when I first arrived I thought it was over.... It was just a dream.
But as I opened my eyes to the real world I slowly started to see. After my ears adjusted from the flight (at first that underwater feel made Percy's voice sound wrong) I heard the man that I have loved so long. I saw him in small ways. The things he said how he responded to me. How my body automatically responded to him before my mind allowed itself to. That was hot. My body knew I was home...
But after just a few days the Percy I knew and loved was standing before me. I was wildly attracted to him. I felt happy, so happy. It was real. And it felt just like online but only better. I could touch him. I then realized that soon we would be back online and I had to savor every moment and every touch so that I would hold on to it and never forget. Not that I ever could.
Look at our faces in this real life pic...Percy is content and relishing, cherishing the real feeling...and I am ridiculously happy. It was so sweet.
We are saying ... finally, at last. What a sweet moment. I miss it so much already... our bodies fit perfectly together. I'm not exaggerating in any way. I don't believe in perfect, but that's how it felt. Perhaps the anticipation of longing....for over a year.....made it so. Or maybe perfect is real.
We had our titanic too...the week came to a crashing end...I had to leave and go back through the looking glass into the computer- the monitor Percy pulled me from with his miraculous love.... Back to microphones and webcams and pixels in THERE.com....
But the difference now is even though we are back in the virtual world we can plan a real future in that physical one..... because for Percy and Softly both are real.